I did my boring day pictures last week, and they're as boring as ever! I put my camera on my nightstand, right next to my glasses, so that when I woke up, I'd remember to start snapping pictures. And snap I did, before my eyes were even open.
More pictures after the jump!
2 of the kids were up, but Gracie takes after me, and she loves her sleep. So I went to snuggle with her for a few minutes before waking her.
I hopped into the shower and did a quick rinse off and shaved my legs and all that good stuff, and then it was on to doing my hair. It was a little humid, so I used the flat iron.
All ready to go! You can see my extra closet behind me – the bottom half is my gift closet. The other door is where the toilet is.
I found time for a little Guitar Hero with the kids before we had to leave…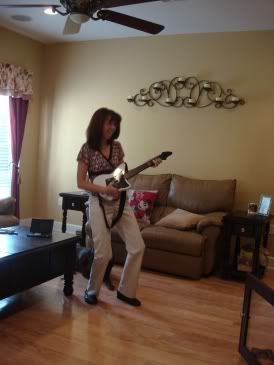 Dropped the kids at school, cranked up Hits 1 on Sirius, and got moving – it's 8:20am!
The cows were cute this morning. We live in the sticks!
I don't drink coffee, so I take a can of Coke with me in the car each morning. It's my breakfast.
Ah…the open road. I'm on my way to the office now.
And yes, I do have a lead foot. The speed limit is 70, so I do 80 til I hit traffic. I love that little green control panel in the center too – I never look at my fuel gage anymore since it tells me exactly how many miles I have til empty.
Pulling into the parking garage…my windshield is nasty from the lovebugs.
Can't forget my passkey for the doors – I put it on this bright orange thingie so I see it in my purse or laptop bag. I don't wear it though – too tacky looking.
Wow, those long hours at work just flew by, didn't they? Time to go!
Sitting in traffic…
On the phone with Jim. And then I called my sister. I make a lot of calls on the road.
Traffic on a part of the road where there shouldn't be any…it was backed up for miles. I had road rage.
The reason for the backup. Stupid rubberneckers. Yes, we've never seen anyone get a ticket, so we've all got to slow down and look!
Home again, home again, jiggity jig. Pulling into my garage…kids bikes on left, then Jim's bike, our beer fridge is against the back wall, and lots of Christmas decorations are up on the shelf.
Dinner is done, the kids are in bed, time for Mommy time!
I'm in my jammies and doing the dishes. We have a dishwasher, but I had to do some things by hand.
Mmmm…screw top wine is the BEST.
Snuggling on the couch with Lola…
I watched the last episode of The Price Is Right (and cried) and then went to bed.
Night, night!